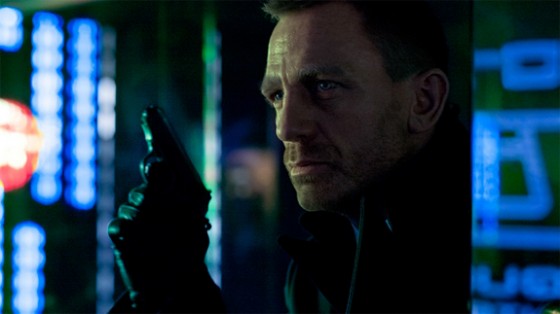 By Andrew Tracy
The problem with the Daniel Craig era of Bond is that it refuses to get started—or rather, is compelled to restart itself with each entry. The franchise overhaul of Casino Royale (2006) was an object lesson in how to pull off these "reboots" successfully, paying homage to the character's legacy while pointing the series in a new and profitable (in all senses of the word) direction. Deliberately drawing attention to the new actor's un-Bondian bearing—pug nose, liver lips, blond hair, barrel chest and all—the 007 production machine was not so much adapting to the tenor of the times as strategically intervening in it. While the Nolanized Batmen loaded up on strained seriousness and zeitgeist-courting that was as blatant as it was ideologically incomprehensible, the Broccoli dynasty went for the corporeal (and the carnal) with Craig: the tuxedoed, well-coiffed cutout of the Brosnan days replaced by a hulking side of British beef, and the film's attentive focus to the new star's muscle-bound frame intriguingly remade the venerable secret agent as an object-to-be-looked-at (and, in the sado-erotic depiction of the novel's notorious testicular torture scene, a body to be hurt) rather than (just) an action dummy to be put through his paces.
Casino's eroticized, almost fetishistic insistence on Craig/Bond's physicality, whether rising from the sea in blue short-shorts or engaged in brutal hand-to-hand combat, is a genuinely interesting bit of sexual politicking, and the disappointment of the wholly lacklustre Quantum of Solace (2008) and the more accomplished yet ultimately enervating Skyfall is that they fail to build upon that initial frisson. Rather, following the rejiggered 007's popular acceptance, they have opted to try and repeat Casino's back-to-origins template over and over again. Where the Bond films of yore, excepting the high tragedy of 1969's On Her Majesty's Secret Service, end with a ritualistic sense of closure (or consummation, one should say), the Craig films stress continuity the better to emphasize change. The nifty ending of Casino, in which Craig fully adopts his iconic mantle, evoked the pleasurable promise of a new kind of Bond unleashed on the world; yet by literally picking up where Casino left off, Quantum effectively stretched its predecessor's starting-from-scratch over the course of a second film, ending with yet another rebirth as Bond buries his grief over the death of his Casino squeeze Vesper Lynd.
One would hope that, the extended warm-up completed, Bond v.6.0 would finally get down to the business of simply being Bond. And yet here is Skyfall, replete with portentous themes of death, resurrection and rebirth, remaking once more a revamped hero who, after a promising start, has yet to properly find his feet. The pleasures of a long-running series are grounded, fundamentally, in stability, in the recurrence of narrative and characterological signposts within an evolving but nonetheless clearly delimited story world. Along with the apocalyptic Dark Knights, the Craig Bonds have adopted a template that we might call (with apologies to David Bordwell) intensified continuity: shattering their hero's world ever more with each installment, bombastically burning up the ground under his feet while still abiding by the sequel-spinning imperative.
Much as Quantum was a working-through therapy session, Skyfall quickly establishes itself as a combination rehab course and overwrought Oedipal drama in the guise of an action spectacle. Reported as KIA after a seemingly fatal pre-credits encounter in Istanbul—when he is accidentally hit by friendly fire after M (Judi Dench) gives his colleague a kill order—a wounded and embittered 007 takes to the beach bum life while his embattled chief faces investigation and forced retirement. Returning to Blighty after MI6 headquarters is bombed by parties unknown—in an attack clearly aimed at M—the broken-down Bond undergoes a mildly disastrous physical and psychological evaluation before being sent back into the field, where stops in Shanghai, Macau and a private island bring him face to face with the mincing mastermind behind the plot: one Raoul Silva (a platinum blonde Javier Bardem), a swish former MI6 agent who (justifiably) holds M responsible for his imprisonment and torture by the Chinese prior to the 1997 Hong Kong handover.
Despite its by turns hesitant and lurching pacing, this first half of Skyfall displays the film's greatest strengths. While the opening motorcycle-to-train chase sequence is more competent than energizing—and not a patch on Casino's spectacular construction-site foot chase, still one of the most stunning action setpieces in recent memory (or memory in toto)—the dearth of thrills is partly compensated by the film's marvellous visual sheen. Cinematographer Roger Deakins—one part of the A-list behind-camera team ported along by perennially Oscar-mongering director Sam Mendes—is the real star of the show here, investing each location with its own strikingly distinctive look and feel. The cool blues and vibrant neons of the Shanghai sequence, culminating in Bond's pursuit of an assassin through a hi-tech office tower's glass-and-mirror maze; a luxe Macau gambling club saturated in scarlet; and even the stunning, ultra-sharp clarity of daybreak on the decks of Silva's homebound yacht, help make Skyfall perhaps the best-looking Bond film ever. (Though DP Phil Méheux's superlative work on Casino might run Deakins' a close race.) Mendes, meanwhile, though consistently a little off-beat in the dialogue scenes, has the kind of glib directorial cleverness that resounds hollowly in so-called "serious" fare but pays off in some stylish coups here, most notably in three one-shot scenes: an intricately choreographed close-range melee shot in silhouette, the camera tracking slowly forward; Bond and his tellingly un-surnamed confederate Eve (Naomie Harris) casing the Macau club while keeping up a running dialogue via radio, the sound levels cleverly shifting as they pass each other; and the mid-film reveal of Silva, who speaks a long, taunting monologue while ambling from back- to foreground across a long, cavernous space.
What ultimately hobbles Skyfall, however, is its dramatic imbalance at both macro and micro levels. Crucially, Silva—built up as a grandiosely fearsome figure by his frightened mistress Sévérine (the predictably gorgeous Bérénice Marlohe, who less predictably gives a sharp, skilled performance during her all-too-brief screen time)—lacks all menace in Bardem's ambisexual dandy act, which, while yielding a few laughs (including the film's one truly memorable moment, a caressing proposition to the bound Bond that results in a rather unexpected reply), is wholly at odds with the lumpy screenplay's groaningly heavy dramatics. To wit, while this is not the first time Bond has faced a dark-mirror opposite of his own self—e.g., the suave Scaramanga (Christopher Lee) in The Man With the Golden Gun (1974), double-O turncoat Trevelyan (Sean Bean) in GoldenEye (1995)—Skyfall deliberately plays the Bond/Silva showdown as an apocalyptic reckoning at the heart of the Bond universe, with the beleaguered M—desired mater and despised patriarch rolled up in one—the object of the antagonists' shared Oedipal axe-grinding. And accordingly, this twisted family romance winds up by returning to the site of the primal scene: a fugitive flight to the crumbling Bond homestead on the Scottish moors (a Connery-evoking in-joke, perhaps?), complete with faithful old groundskeeper (Albert Finney, by gum) and painful memories of adolescent trauma.
Not only does all this portentous and protracted delving into the past result in a rather limp final action sequence—little more than Straw Dogs (1974) with heavier artillery—it also tells us little more about Bond than any of the preceding films had already disclosed. And who indeed would wish to know anything more about Bond other than what he's going to do next? Bond is a resolutely present-tense hero; he doesn't require a Bruce Wayne-style sob story to explain Who He Is And How He Came To Be. (That the series occasionally reminds us that Bond's wife was murdered offers us no deeper insight into his character than does knowing the same of Eastwood's Dirty Harry.) And while Skyfall predictably breaks Bond down only to build him back up again, the end-film report for duty bespeaks weariness rather than revived excitement. Craig's exciting Bond-in-formation has given way to a Bond in dissolution and decline—and while this might have generated some genuine pathos if there had actually been some time to live with this character and actor across a few films, after only three it's merely dispiriting. While Craig—and, potentially, the set of new but soon-to-be recurring faces in the cast—still hopefully has some juice left in him, the supercharged revitalization of Casino has largely been squeezed out.