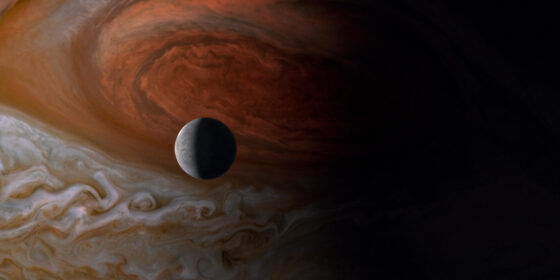 By Robert Koehler
Time was, when he was actually doing good work, Terrence Malick seemed to appear with a new movie once a decade, if that. Now that he's making drivel, Malick can't stop himself from churning them out, which, a theory goes, is why they're drivel. That theory, however, can't explain the ridiculous new project, titled on the screen as Voyage of Time but titled in all publicity and advertising with the useless add-on Life's Journey. Malick didn't rush this one: this is that legendary endeavour that Malick has been working on since at least Days of Heaven (1979), the one you may have heard about that visualizes the origins of the universe and life on Earth.
It's possible, had he made it before he became a New Age Christian filmmaker—for that is precisely what Malick is now—the resulting movie wouldn't be such a hash of airy-fairy God-speak and actual scientific interest. The latter is represented by 90 minutes of images that include live-action photography (care of Paul Atkins) so gorgeous and cosmic that it's hard to believe they're not special effects. (The several special effects shots, on the other hand, are obvious.) Much of this is filmed with either 65mm or IMAX cameras, and capture oceanic and land life forms comprising a gallery of natural selection and biological diversity.
Well, God didn't make this in seven days. But the narration, written by you-know-who and narrated in the feature version by Cate Blanchett (a different text for the 45-minute "IMAX Experience" version I didn't see is narrated by one of the film's 16 producers, Brad Pitt), is pure religious blather. Addressing something called "Mother" with a long list of questions, the text could stand as the new scripture for Christian New Agers everywhere. Painful as it may be, it's best to recall the opening 20 minutes of The Tree of Life (2011), with its images of the cosmic universe and dinosaurs combined with hushed Rod McKuenesque verse, to grasp the nature of Voyage of Time. It's more or less the 20 minutes with 70 additional minutes, including some roughly shot video footage (on lo-fi Harinezumi digital cameras which Malick unwisely gave to amateur shutterbugs) of homeless people, drug addicts, and Indian Hindu rites. Plus, for want of a better term, a comic interlude, the single silliest thing Malick has ever staged: a roughly five-minute sequence of naked black people running around sand dunes and mountains, portraying early hunter-gatherers.