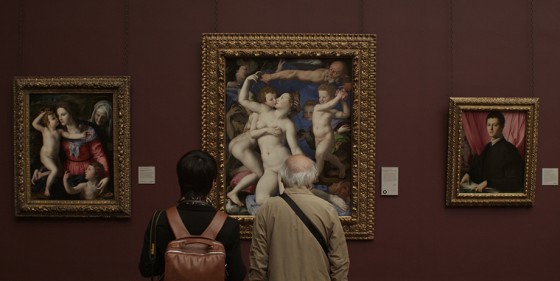 By Kiva Reardon
After a quick establishing shot of the stone lions that guard the British National Gallery, Frederick Wiseman plunges into the building itself with a rapid-fire montage of the iconic works that hang on its walls. The effect is nearly overwhelming—especially for a viewer like me who dropped the one Art History class I dared enroll in—though it's fair to assume this is Wiseman's intent. The veteran documentarian of institutions paints a portrait of Britain's greatest art gallery that has far more to do with its people than the oil paintings it houses.
Running just under three hours, National Gallery is on the shortish side for Wiseman, though, as is his way, the film is still created through the editing rather than voiceovers or onscreen explanatory text. Following a cast of characters which includes amusingly animated tour guides, appropriately anal retentive restorationists and enthusiastic marketing specialists pushing for the gallery to make its appeal more populist, Wiseman does what he does best: creates a holistic sense of a place as an organic habitat rather than a mere organization.
One recurring strategy in the film is Wiseman's tendency to cut between the works hanging on the walls and the gallery visitors staring at them, trying to decipher their hidden meanings. In part, this is a way to animate the possible tedium of filming static paintings, but it also feels intentionally indicative of what Wiseman asks from his own documentary work: patient decoding.