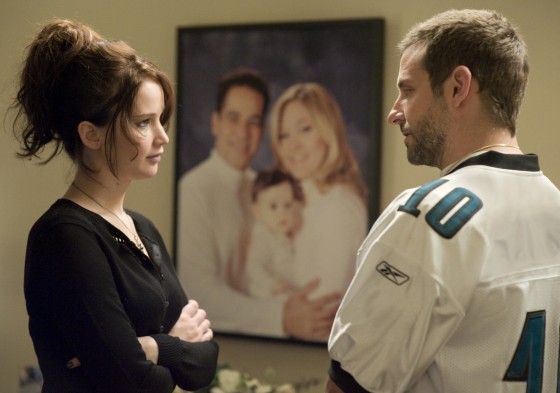 By Adam Nayman
The amateur-hour pas de deux that climaxes Silver Linings Playbook is the best indicator of  what the film's director thinks he's doing the rest of the time. Led by a series of plot contrivances that raise the term "Byzantine" by several minarets, recently institutionalized history teacher Pat (Bradley Cooper) and manic-depressive pixie-dream-girl/black-eyeliner-widow Tiffany (Jennifer Lawrence) go through their paces in a pairs dance contest at a swanky Philadelphia hotel, first whirling gamely through some standard-issue ballroom moves before headbanging to The White Stripes' "Fell in Love With a Girl" and finishing up with a botched homage to the lift from Dirty Dancing (1987). They're all over the place, but they know it. Like the proverbial dog that stands on his hind legs, the audience (in the movie and in the movie theatre) is supposed to be impressed merely that they're trying to wobble in so many different directions. Scoring precisely the median passing grade that they need to tie up all of the script's loose ends, they're palpably thrilled with mediocrity.
And, for all his gestures in the direction of being a free-swinging cinematic hellcat, so, it would seem, is David O. Russell. Like his previous statuette grab The Fighter (2010), Silver Linings Playbook (which tellingly won an audience award at the Toronto Film Festival)is an utterly conventional genre picture dolled up (or perhaps more accurately dressed down) as a messily unkempt psychodrama. The trick is not merely diminished by its repetition, however: this is a much worse movie than The Fighter, probably the worst one that Russell— a charter member of the "American Eccentrics" whose early avant-Hollywood trajectory ran parallel to Spike Jonze, Sofia Coppola, David Fincher and both of the Andersons—has ever made.
What made The Fighter watchable for long stretches was the rather canny dynamic between the dopey normality of Mark Wahlberg and the sideshow stylization of the actors around him. If Christian Bale and Melissa Leo's iron-larynxed Massachusetts trash were tough to take for the audience, they were also no less so for Wahlberg's Micky Ward; it was as if the (Best) supporting actors were obstacles to overcome for character and performer both. It might be Pollyanna-ish to suggest that Wahlberg's inveterate underplaying and his co-stars' careerist fence-swinging resulted in a fine balance—it was more of a stalemate— but for whatever reason, The Fighter found its equilibrium just in time for the home-stretch, stations-of-the-right-cross training-montage/title-bout combo, which landed its blows with a cozy potency. While surely no great shakes, the movie worked.
Silver Linings Playbook doesn't, and it draws no strength from the conventions it covertly embraces beneath its high-decibel assault. From the moment that Pat and Tiffany meet cute by comparing notes on prescription meds at a dinner hosted by the latter's uptight older sister (a well-cast Julia Stiles), it's merely a matter of time before they realize that they fit like frayed puzzle pieces. Their fuzzily defined respective mental illnesses—his bipolarity, her hostility and grief-fuelled nymphomania—are only serious enough to keep them apart for three cleanly delineated acts.  Begrudging a romantic comedy for such things is futile of course, but Russell's writing and his direction of the performers keeps nudging us that the movie is really a far more exotic species: a messily humanist work about people whose bruises really hurt and whose craziness must be taken seriously.
This is hard to do when the vessel for all those presumptively heightened emotions is the perennially lightweight Bradley Cooper, who has still never topped his hilarious closeted camp counsellor in Wet Hot American Summer (2000). It's said that Cooper based Pat's anxious rage-monkey act on Travis Bickle (Robert De Niro is on hand as the character's OCD gambling-addict father), which is a flatly bad idea if true. It's even more embarrassing, though, if those are things that some critics took from the performance, which even in its tensest moments couldn't cut warm butter. Frankly, Ben Stiller did better as a man in a pitched battle with his impulses in Russell's Flirting With Disaster (1996), a film with the good taste to not drag actual mental illness into its neo-screwball hijinks (it got plenty of mileage out of that old American-movie-comedy standby suburban Jewish neurosis, complete with a leggy shiksa temptress in the form of Téa Leoni). Cooper reads more as an actor trying to push beyond his limits than a character struggling to hold it all in—and the disparity between those imperatives isn't just distracting, it's fatal.
By contrast, Jennifer Lawrence is almost too good: a genuine natural in a role so poorly conceived that it seems to be doing her a disservice, instead of the other way around. There's some theoretical frissonin seeing the resolutely indomitable star of Winter's Bone (2010) and The Hunger Games play somebody who can barely hold herself together, but Tiffany's relentless scheming and seething loses its heat as we're reminded at every turn that she's just a wounded, adorable sprite with gothy fashion tastes. Tiffany's sex fixation isn't a deeply rooted trait but a tragic symptom (her late husband was shot buying her lingerie in an attempt to spice up their bedroom life), and her manipulative behaviour towards Pat is conveniently recast as his salvation, ridding him from his attachment to his ex-wife once and for all. Tiffany's very troubling pattern of denials, half-truths and outright lies fixes a man whose problems lay seemingly beyond the purview of modern psychiatry, and when he realizes that he loves her for it, she's saved too—just in time to cue this dully made film's sole assertive camera movement, which comes right out of a very ordinary stylistic playbook.
Lawrence gets a couple of good laughs just by darting into frame like a cartoon character, and if Russell had found similarly amusing ways to stage the (endless) confrontations between the rest of the ensemble—Pat and his father, Pat's father and his bookie, etc.—the material's potential for pop-up interpersonal pugilism might have been fulfilled. Instead, he mostly just clumps his characters around the television set in Pat's living room, and while the avoidance of simple shot/reverse-shot set-ups at least indicates a filmmaker trying to take himself off of autopilot, it's more cacophonous than smartly comic. Meanwhile, when he does strive for outlandish effects (like Dash Mihok as a police officer whose mysterious proximity to Pat's outbursts suggests that he's not a strictly realistic character), they just seem poorly integrated into the surrounding "realism," which is consolidated by the plot's reliance on things that those paying attention will know actually happened, such as a crucial 2008 Sunday-night game between the Philadelphia Eagles and the Dallas Cowboys. (The importance of this contest and its outcome to the story makes Silver Linings Playbook into a sort of period piece about a time when Desean Jackson, whose jersey Pat wears like a security blanket, was a relevant NFL player.)
This tale of loveable losers is surely framed around Eagles fandom for a reason: the Donovan McNabb era, filled with close losses and botched chances, entrenched the idea of the franchise as a close-but-no-cigar bunch who kept finding new ways to disappoint their rabid and long-suffering fan base. (The football reference of the title cinches the connection.) About the only thing that feels authentic in Silver Linings Playbook is a line that's almost buried in the sound mix, when De Niro, chuffed at his team's winning a big game for once, crows about their chances in the upcoming playoffs, which anybody with Wikipedia knows ended in tears (and with Desean Jackson getting intercepted in the final seconds). If this line is meant to dim the otherwise blinding glow of the film's ending, it's either too subtle or half-hearted; one wonders why Russell included it all, unless he suspected that this latest experiment in flattering a mainstream audience into thinking they'd had an edgy viewing experience needed some more tarnish on its lining. In any event, Silver Linings Playbook looks destined for its own happy awards-season ending, and in that case, it doesn't really seem worth worrying about what happens next with its formerly thorny and presently ascendant director—fairy tales are never concerned with such things, and neither should we be.
Ed. note 2/15: Thanks to all who pointed out the error in this article re: the name of the lead character, as well as overall shoddiness of this rag. The first issue, at least, has been addressed.