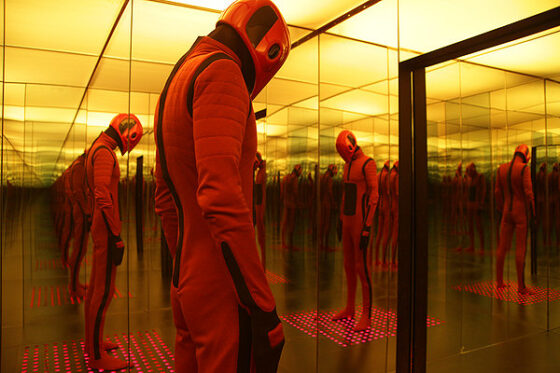 By Jason Anderson
For Panos Cosmatos' Beyond the Black Rainbow to take such a slow and tortuous path into wider circulation seems oddly appropriate for a movie that seems not only anachronistic but downright atemporal. After escaping a rift in the space-time continuum in order to premiere at the Whistler festival in late 2010, it has wended its way through the planet's circuit of genre fests (and Tribeca) and has now begun a limited theatrical release, via Magnolia in the US and Mongrel in Canada. In due course, it has built the kind of cult rep that Cosmatos—the Vancouver-bred director of videos for the Handsome Furs and Black Mountain, and the son of Rambo: First Blood Part II (1985) and Cobra (1986) director George P. Cosmatos—clearly sought from the outset. Yet even among the fanboys, it has proven to be a genuinely enigmatic work, one that references a whole history of fantastic cinema yet remains its own sombre and stubbornly perverse entity.
Suffice to say, a plot synopsis really doesn't do it justice. The film's scant storyline centres on Elena (Eva Allan), a mute young woman with psychic powers who is a subject of keen study by the few remaining employees of the Arboria Institute, a gleaming facility created—according to a cheerful promotional film featuring its visionary founder Dr. Mercurio Arboria (Scott Hylands)—to usher in a "new age of enlightenment" via the use of "benign pharmacology, sensory therapy, and energy sculpting." Presumably, the pyramid of pulsing light has something to do with that last item. But whatever happens at the Institute now, it's most definitely not benign, and probably hasn't been since the events we eventually witness in a magnificently weird and violent flashback.
Even if it's not easy to tell what Cosmatos' movie is, the matter of when couldn't be clearer. The first piece of discernible data we see is the number of the year in which the film is set, gradually embossed on the screen in the slow-fade style of Alien's (1979) opening title. There will be several more signifiers indicating the movie's quintessential 1983-ness, including the DeLorean-style sports car driven by Dr. Barry Nyle (Michael Rogers), Elena's taciturn, eerily pallid doctor and the film's eventual villain, and a TV clip of the speech that President Reagan gave that March to promote his "Star Wars" missile defense plan. But the more obvious pop-culture allusions that filmmakers typically deploy to connote a period setting—like the '60s and '70s hits that are so carelessly slathered over the soundtrack of Dark Shadows, another immaculately designed way-back machine—are otherwise nowhere to be seen or heard. (The superb original soundtrack by Black Mountain keyboardist Jeremy Schmidt is a mix of John Carpenter-style synth throb and menacing space-rock ambience.)
Of course, it would've been giving the game away to allow the movie's painstakingly peculiar and pre-digital universe—shot on 35mm and created entirely in-camera via the canny use of sets, makeup, lighting, costuming, matte work and smoke effects—to include evidence of the existence of any of the movies that Cosmatos' feature evokes. That copious list ranges from the steely, antiseptic likes of THX-1138 (1971) and Silent Running (1972) to the more eagerly existentialist SF school of 2001: A Space Odyssey (1968) and Solaris (1972) to Cronenberg at his most clinical—that is, in the films set in a clinic or clinic-like institutions, like Crimes of the Future (1970), The Brood (1979), and Scanners (1981). It's not without some contemporary kin as well: rendered in stark and degraded black-and-white, the flashback scene has the nightmarish fury of the negative-image sequence in Philippe Grandrieux's La vie nouvelle (2002).
Yet it's too bad Cosmatos didn't save a corner of the floor in one of his sets for another of the era's emblems of futurity: a video-game console and the surrounding tangle of black cords and joysticks. That's because Beyond the Black Rainbow is one of a number of recent films that represent the cinematic equivalent to console emulation. This arcane practice caught on with programmers in the '90s, who eschewed slicked-up simulations of beloved games for the Atari or Intellivision systems in favour of tricking their much smarter and much faster computers into replicating the primitive processes of their 8-bit forebears. For these adherents to the faith, making a game that looked and played like Ms. Pac-Man was no substitute for reproducing the original right down to the code.
Really, it was about using the most finicky means to create the most authentic facsimile possible, a process that's hardly unfamiliar to any contemporary consumer or producer of art in any form. But if Quentin Tarantino's appropriations of Asian action and American grindhouse qualify as knowing po-mo simulations that remain rooted in the present, then members of this new school strive for a deeper, more monastic immersion in an idealized past of VHS pleasures. Essentially, Beyond the Black Rainbow wants to be more than set in 1983: it wants to somehow be made in 1983, too. (The fact that Cosmatos' movie contains so few explicit quotations of existing works may have something to do with his principal inspiration for Beyond the Black Rainbow, which he claims were the movies he imagined based on the artwork on video boxes he perused as a dreamy and impressionable youth. Also strange but true: the principal source of funding for Beyond the Black Rainbow was DVD residuals for his dad's 1993 western Tombstone. So like all good things, none of this would have been possible without Val Kilmer.)
The same degree of fetishization is discernible in three other emulator films to recently gain favour among genre devotees: Ti West's Satanic-cult shocker The House of the Devil (2009), Jason Eisener's straight-to-Vestron-Video bloodbath Hobo With a Shotgun (2010), and Hélène Cattet and Bruno Forzani's giallo homage Amer (2009). In all four movies, every detail—from the use of music and graphics to elements of performance and design—has been fussed over to the nth degree to ensure that the feature would've passed for the real thing if it somehow slipped back in time to appear on a double bill with Xtro (1983) or Exterminator 2 (1984).
In that respect, Beyond the Black Rainbow stands as "A Practical Application of an Abstract Ideal," to borrow a tagline used by the Arboria Institute to describe their happiness-enhancing but apparently flawed methodology. Cosmatos' debut is also the most impressive and most mysterious of the lot. As slow and strange as Elena's saga may be—especially in the film's final third, with its shifts between straight-up shock tactics and a more lyrical mode—it's given shape and drive by the hypnotic pulse in Schmidt's music and the intricacy of Eric Paul's sound design. The essential simplicity of the design—all hard clean lines and bold reds, greens, and blacks—also prevents any air of fussiness from creeping into a film that could have been art-directed to death. Instead, it's surprising how sumptuous it looks and how vivid it all feels. A facsimile it may be, but this is one with a surprisingly mythic scope, the battle of wills between the increasingly deranged Dr. Nyle and his desperate (but not defenseless) young patient finally culminating in a whacked-out climax that manages to be gruesome, absurd, surprising, and—in a final image that bridges the world of the film with another iconic '80s movie universe, the Spielbergian suburbia of E.T (1982) and Gremlins (1984)—astonishing. "Bring home the mother lode, Barry," says Dr. Arborio to his protégé in the flashback sequence (it too is date-stamped, this time for 1966). For devotees of science-fiction cinema at its most synapse-frying and voluptuously horrifying, the mother lode is exactly what Cosmatos delivers.