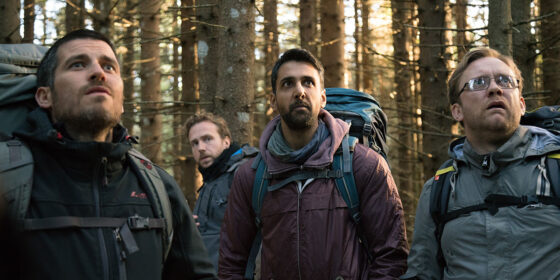 By Chelsea Phillips-Carr
Making his feature debut after directing segments for the horror anthology films V/H/S and Southbound, David Bruckner proves that he is clearly familiar with the mechanics of his genre, but The Ritual misses the mark: working in a longer format, he comes up with a confused and unsustainable tangle of typical horror tropes.
The film follows four men who go on a hiking vacation to memorialize a dead friend; after one injures himself, they decide to take a "shortcut" through the forest, where they are soon terrorized by an unseen being. While the first half of the film is effectively atmospheric, once things are explained and the monster revealed, The Ritual loses its edge. The scares are uncreative, but always loud: haunted houses, fake-out nightmares, or characters constantly walking into danger in the name of finding safety. Despite the script's attempts to generate emotional tension from the survivor's guilt of the group's leader (Rafe Spall), Bruckner largely relies on clichés spotty, Stephen King-style buddy-movie dynamics, and mashed-up elements of The Blair Witch Project and The Wicker Man. Shorn of any sinister overtones, the film's title sadly proves all too apt for the rote treatment which Bruckner has applied to his material.