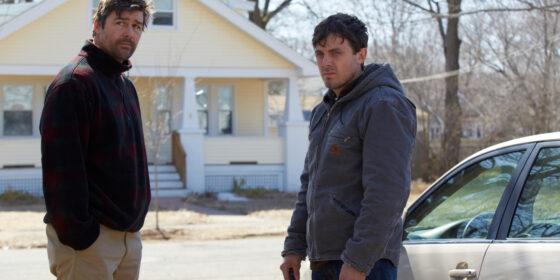 By Angelo Muredda
The elegant swan to Margaret's (2011) ugly duckling, Manchester by the Sea is a moving but less arresting follow-up to Kenneth Lonergan's career best. At his strongest when he is least governed by discipline and good taste, Lonergan seems a bit too tentative in this unmistakably well-crafted study of the way grief ripples through a contained community. Where Margaret turned outward to the New York City skyline, the West Bank, and Victorian poetic elegies to follow its precocious schoolgirl's equally reckless mourning of a stranger, Manchester by the Sea, like Lonergan's first film You Can Count On Me (2000), stays small, tracking the way a family in the eponymous coastal town has to reorient itself after the sudden death of good brother and father Joe (Kyle Chandler).
Modest as this scope seems, the gently overlapping timelines and detached, classical-scored views of the family fishing boat on the water evoke a universal register that takes us beyond the thick regionalism of the Boston-adjacent accents and Bruins t-shirts to consider how death forcibly inscribes itself on people's lives. Lonergan strikes that balance well. Mostly, that's thanks to the sturdy masculine gravitas of leading man and mourner-in-chief Casey Affleck, who's equally good at conveying rumpled human dignity and drunken aggression as Joe's tragedy-afflicted brother Lee, suddenly named the guardian of his teenaged nephew (Lucas Hedges).
It's only when the film buckles down to explain what's eating Lee and why he left town in the first place—about as foregone a reveal as might be expected—that Lonergan seems to be straining for melodramatic notes that aren't in his story's range. The prickly warmth, specificity, and gallows humour that is his stock in trade is gradually diluted by the generic mechanics of an important prestige picture, complete with dramatic show-stopping cameo by Oscar darling Michelle Williams as Lee's ex-wife and co-sufferer. The result is something perfectly fine, and all the more disappointing for it.