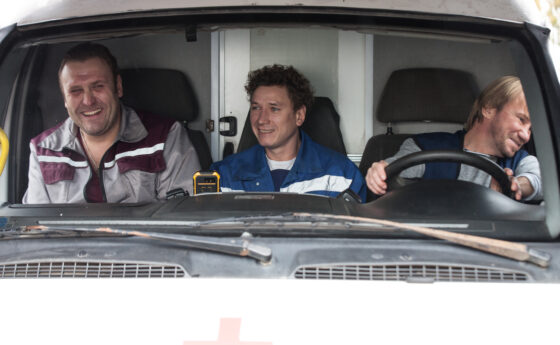 By Robert Koehler
Arrhythmia was originally intended as a comedy about a stressed-out couple in the Russian health-care industry, but co-writers Boris Khlebnikov (who also directs) and Natalia Meshchaninova made the wrong decision by switching gears to the more literal tone of a modest melodrama. The comic possibilities are still visible under the surface, especially in Alexander Yatsenko's hang-dog performance as Oleg, a hard-drinking paramedic desperate to hold onto a collapsing marriage, and in some of the more outrageous emergency calls he and his team take on. The actual results are more like a wet blanket.
From the start, doctor Katya (Irina Gorbacheva) is more mother to Oleg than wife, and her patience with his obnoxious combination of drinking, passive-aggressive behaviour, and emotional neediness is growing understandably thin. The screenplay's sympathy is more with Oleg, depicted as a rebellious physician who chafes at bureaucratic authority and improvises solutions with patients that are intrinsically funny, utterly unprofessional, and yet somehow sensible under stressful conditions. Katya is reduced to being an observer, only once seen at work and left in an emotional void that creates a severe imbalance in the movie's dramatic structure.
The annoying tendency in current Russian cinema for hammering audiences with obvious socio-political messages is pleasantly absent in Arrhythmia, which is part of the reason for the movie's positive reception at its Karlovy Vary premiere (where Yatsenko won best actor). The setting, an anonymous Russian city in the winter, is a space where generally well-intentioned people with hopes and dreams grind out livings under less-than-ideal conditions. The Russia here looks like a place that's not run by monsters, but by bumblers who just make do. This sort of mundane approach might be viewed by some as a kind of artistic triumph of the middling. But is that all there is?